I have always been interested in photography, painting, and more recently digital manipulation. With-out any formal education regarding this vast culture, my creations are strictly based on my own perceptions of the topic, whether or not it moves my emotions or intrigues my curiosities. I have been a member of FAA since March of 2012, and getting involved with this Website has been an incredible experience! It provides a whole network of potential friends and support which which is priceless!
Thank you for taking the time to check out my work... God Bless! =)
Have a Great Day! Share a Smile! It really is Contagious! =)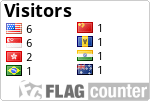 Kathy Sampson joined Pixels.com Licensing on March 15th, 2012.