To me, photography is an adventure in time and space. With all the hustle and bustle of our busy lives, photography is one way to stop time; a chance to pull the viewer in, and show the beauty and intrigue a single second contains. A turn of the head, a ray of sunlight, the movement of a cloud, all work together to produce that perfect instant; that time to record; that time to share.
Thank you for visiting my page. If you require assistance with a particular size or a custom crop, please contact me. I invite you now to enjoy your adventure through time and space!
All work on this site protected by copyrights. Fine Art America watermarks will not appear on purchased prints.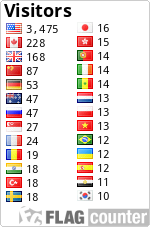 Free counters